Looking for an active and healthy holiday in Puglia? Here you will find some good tips for some beautiful trekking routes in our region ! 
From the Gargano promontory, with its white limestone cliffs and ancient forests, to the Valle d'Itria and Salento, rich in olive groves and the Mediterranean scrub that overlooks the crystal clear sea,
Here are some of the best trekking routes in Puglia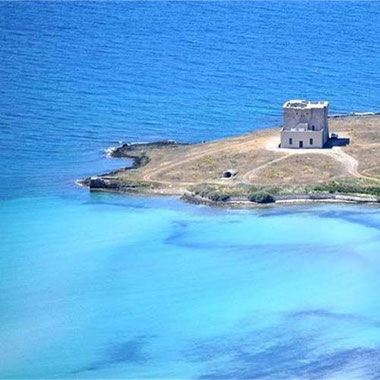 Riserva Marina di Torre Guaceto : WWF natural reserve
Close to the Resort Grottamiranda (10 minutes driving) 
Although its fine sandy beaches, sheltered by rocky promontories with crystal clear waters, would be enough to justify a visit, Torre Guaceto has many other assets : long dunes, a network of wetlands criss-crossed by paths, endemic flora and fauna, and rich seabed.
Come and explore this reserve while it is still intact.
A naturist beach is located in this reserve.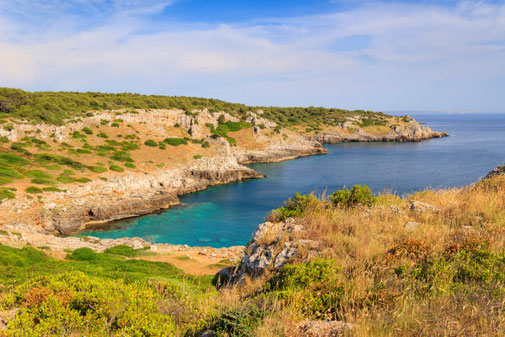 Porto Selvaggio
Taking the path from Torre Uluzzo, you'll find an amazing route that is worth the sweat ! A wild and untamed landscape that you will not want to miss.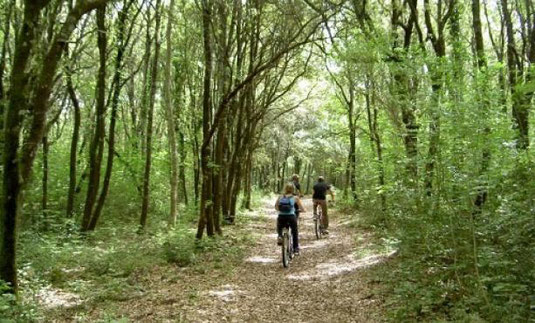 Riserva Naturale del Bosco delle Pianelle  -
close to MARTINA FRANCA
(40 kilometers from Resort Grottamiranda)
Bosco delle Pianelle, from being a shelter for bandits, has become a natural unspoiled oasis, along the slopes of the namesake ravine, where one can relax, surrounded by the green.
In the forest it is possible to hike or ride a bike for more than 15 kilometres along trails and maybe stopover in one of the picnic areas inside the reserve.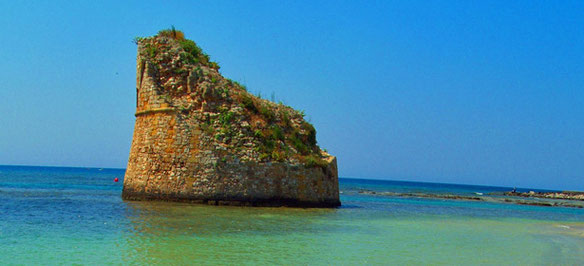 Litorale di Ugento Regional Nature Park
Thanks to its nature, history, and landscape, the "Litorale di Ugento"  is one of the Salento peninsula's most interesting and valuable areas.
An uncontaminated oasis of luxuriant nature, the "Litorale di Ugento" Regional Nature Park boasts sandy beaches, stretches of water, "gravinelle" (small ravines), and woody areas
The Park extends over roughly 1,600 hectares and features a great variety of natural ecosystems.
Visitors will encounter sandy and rocky beaches, wetlands behind the dunes, marshes, areas of woodland and Mediterranean scrub, centuries-old olive groves, and "gravinelle" (karstic rock channels formed by water erosion).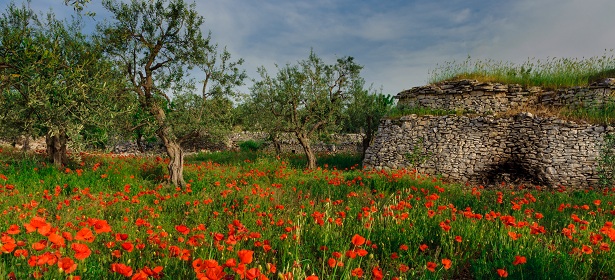 Alta Murgia National Park 
 The Alta Murgia National Park is the last example of Mediterranean steppe and contains drystone buildings, fortified masserie (farmsteads) and the magic of Castel del Monte.
The greenery is dotted with drystone constructions, once used to pen animals during the seasonal transhumance.
Imposing and majestic masserie, some of which are fortified like true castles, were the vibrant centres of the local agricultural economy from the 15th century onwards.
The Park's crowning glory is Castel del Monte, the mysterious castle built by Frederick II, fantastic UNESCO place.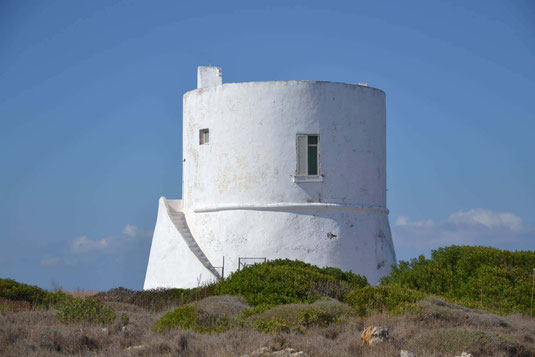 Parco di Punta Pizzo in Salento - South part of PUGLIA
Among the best trekking routes in Puglia, there is, of course,
Parco di Punta Pizzo.
This coastline boasts an interesting mosaic in nature with beaches and Mediterranean scrub.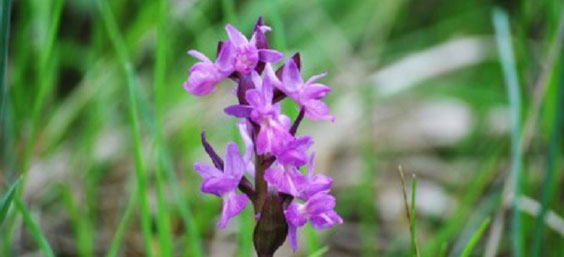 Hiking in the GARGANO National Park among orchids
 Covering more than 120,000 hectares, the Gargano National Park is well worth exploring, with its ancient forests and islands bathed in crystal-clear waters.
The Park harbours several protected areas, including the Marine Reserve of the Tremiti Islands, an area where you can find the extraordinary beauty of its sea beds and natural caves.
Inland, the Gargano promontory is home to the last pocket of the verdant Umbra Forest, 
There are numerous options to explore the park on foot or by bike. Many trekking routes are known. itineraries and thematic excursions dedicated to sport, nature, food and wine, history and art, are organized
Let's discover many trekking routes in PUGLIA  ! 
Let yourself daydream in Puglia surrounded by beautiful landscapes and immersed in the colors of the seaside.
You will find everywhere  a powerful nature  : centuries-old olive groves , oak forests , magic coastlines.
Imagine your ideal vacation - Puglia is welcoming at any time of the year thanks to its particularly mild climate