When you think about Italy, you may think of beautiful Italian coastal beaches with picturesque hidden coves. But what you might not know is that there is nearly one nude beach in every coastal city in Italy.
Nude beach Italy : what does that mean ?
Though topless tanning is the norm on most beaches throughout Italy, there can be a small issue if you want to go completely naked as this is usually restricted to certain areas of the beach. Nude tanning has been common in Italy for many years, and was only made officially legal in 2006, with a legislation that was passed to create designated public nudist beaches, with obvious signs and indications to show you where they are. There are now many beaches designated specifically to nudists.
Nude beach Italy : where to go ?
 Here are the 12 official pages in Italy :
THAT IS TO SAY : The beaches and places in Italy where it is possible to practise naturism in complete safety and tranquillity, as they are officially recognised by the municipalities on which they insist. In many of them there is a federated naturist association that protects and promotes them.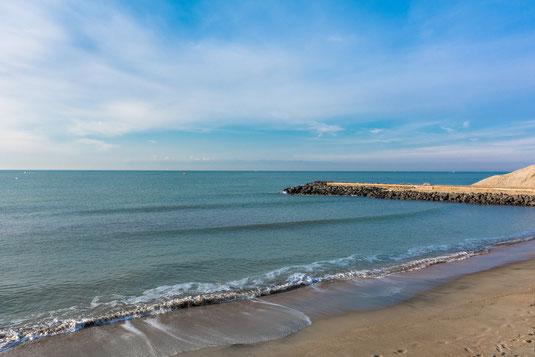 ROME  : One of the more popular nude beaches in Italy, beside Rome is Capocotta Beach.
Although the beach has been used by nudists for over 30 years, it wasn't until 2000 where the locals designated a special section to naturists. This beach is located on the South coast of Rome between Ostia and Torvaianica.
The beach itself is very unique as it is located within the Nature Reserve on the Roman Coastal area which gives you a beautiful unspoiled view of the translucent blue sea. Although the beach is picturesque with the soft golden sand, if you look behind there are striking dune formations that have taken over the landscape. There is a dedicated nude beach section within the 250 meter beach in the Liyornea/Varchi stop where you will find lots of useful kiosks and facilities.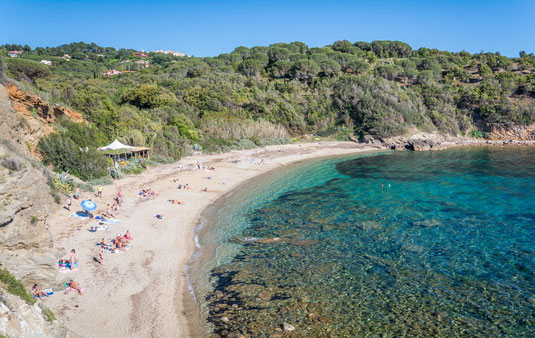 TUSCANY - ELBA ISLAND : A particularly unique nude beach-Italy for tanning naked, with black sand and black shingle, is Acquarilli Beach on Elba Island in Tuscany.
When you arrive at the car park on the hill there is a breathtaking view overlooking the clear blue water at the beach. As there's no facilities at all and the beach can be difficult to get to because of the steep pathway it means that the beach can be less busy than other areas of the island.
The view from the beach itself also has a very special feel to it overlooking the Capoliveri coastline until the small island of Gemini opposite.
NIDO DELL'AQUILA
PARCO NATURALE DI RIMIGLIANO - SAN VINCENZO (LIVORNO)
How to reach it ?
From the town of San Vincenzo, follow the Strada della Principessa, which runs parallel to the sea between San Vincenzo and Populonia.
After about 6 km from the exit of the village, there are two farmhouses on the sea side, about 200 m distant from each other.
The first was renovated and now is called Podere Tuscania, while the second farm (called Nido dell'Aquila).
From the Podere Tuscania car park follow the path to the sea, then walk left along the beach for another 50/100 meters towards the first promontory. In all it takes no more than 10 minutes to walk.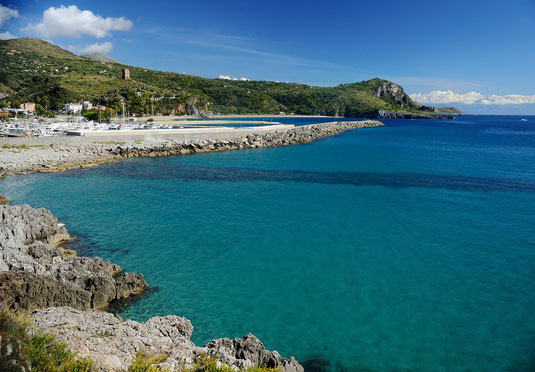 BEACH OF THE TRONCONE TO SOUTH OF CALA FINOCCHIARO
MARINA DI CAMEROTA (SALERNO)
In the southern side of Italy beside Palinuro lies another unique nude beach - Italy, Spiaggia Del Troncone. This 400m nude beach, hidden by the ridges of the rocks has three bays; a very small one that fits only a group of people, another larger one that can hold 20 people and then the largest one which can accommodate around 150 people.
The area itself is surrounded by the National park of Cilento and Vallo Di Diano, a UNESCO world heritage site, gives it an amazing view while also being secluded.
LIDO DI MORGE : TORINO DI SANGRO (CHIETI)
THE BEACH OF LIDO DI MONGE IS LOCATED ON THE ABRUZZO COAST, IN THE MUNICIPALITY OF TORINO DI SANGRO.
The stretch of beach dedicated to the practice of Naturism is 150 meters long.
Only in this area will it be possible to practice naturism: anyone who does it outside can be invited to move to the reserved area. The area is marked and delimited.
The beach is that of Lido Le Morge, in the Lagodragoni district of Torino di Sangro
On the official site of the Italian Naturist Federation (FENAIT), you may find also : 
Spiaggia fluviale - Varallo Sesia (VC)
Spiaggia naturista di Punta Combara - Livorno
Spiaggia naturista di Punta del Miglio - Livorno
Spiaggia di Focene - Fiumicino (RM)
Spiaggia di Bulala - Gela (CL)
Spiaggia naturista di Piscinas (VS)
Spiaggia naturista di Porto Ferro (SS)
Discover another nude beach - italy , a beautiful tolerated one in Southern Italy : TORRE GUACETO in Apulia
In Torre Guaceto,
a naturist beach has been attended for more than 25 years by the more convinced naturists. Located at 7 kilometres from the Resort Naturista Grottamiranda, it is set in the WWF natural reserve.
You may park inside the guarded parking area of
Lido Boa Gialla. After 20 minutes' walk in the countryside, you find quietness and sunny weather.
Italy is often seen as a country where NATURISM is not easy to practice but many beautiful places offer quiet, clean and natural beaches
You can also discover different naturist campsites created a long time ago.  See the  FENAIT website.