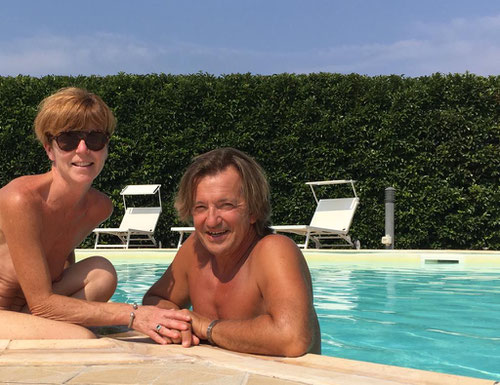 First of all, Pierre and I want  to thank all of you who have called, emailed or messaged us  asking about our health. We hope you are  also  doing well , you and all your family.
                             The Resort will open on May , 1st 2022  !
Prima di tutto, Pierre ed io vogliamo ringraziare tutti voi che ci avete chiamato, mandato email o messaggi chiedendo della nostra salute.
Speriamo che stiate bene anche voi e tutta la vostra famiglia..
                                Siamo felici di accoglierti il 1° maggio 2022 !
 Tout d'abord, Pierre et moi tenons à remercier tous ceux qui nous ont téléphoné, envoyé un message pour nous demander des informations sur notre santé.                                                                                                           Nous serons ravis de vous accueillir dès le 1er mai 2022 ! 
---
our commitment / IL NOSTRO IMPEGNO /  NOTRE ENGAGEMENT
 We will use on a regular basis this PAGE to keep you informed about the situation in Puglia and to guarantee a safe holiday
For the moment, you may have many questions, let's try to answer them and don't hesitate to call us if necessary: 00 33 6 67 27 18 65
We are very much aware that in 2022  traveling will instill  questions.
We also know that many people crave sun, freedom and  Wellness.
Il nostro impegno
Per questo motivo utilizzeremo regolarmente questa pagina per tenerti informato sulla situazione in Puglia e per garantirti una vacanza sicura.
Per il momento, potreste avere molte domande e cerchiamo di rispondere. Non esitate a chiamarci se necessario:
00 33 6 67 27 18 65 
De façon régulière, nous utiliserons cette page pour vous renseigner sur la situation dans les Pouilles et comment programmer des vacances sécurisantes
Vous devez dans l'immédiat avoir de nombreuses questions, essayons d'y répondre au mieux et n'hésitez pas à nous appeler si nécessaire 00 33 6 67 27 18 65
Nous sommes tout à fait conscients qu'en 2022 voyager suscite encore des questions
Nous savons aussi que beaucoup de gens ont soif de soleil, de liberté et de bien-être.
---
your questions / LE TUE DOMANDE / VOS QUESTIONS

Q  : What are the requirements for entering Italy?
Q : Quelles sont les obligations de déclaration pour entrer en Italie ?
 ENTRY INTO ITALY valid until 30 April 2022
Travellers over 6 years old entering Italy from EU must present a valid health pass. This corresponds to :
- either a complete vaccination scheme recognised by the EMA (a complete scheme means 2 doses for a two-dose vaccine and 1 dose for a single-dose vaccine. For circulation in Europe, this vaccination scheme is valid for 9 months after the last dose. However, this period is 6 months for access to most services or activities in Italy (see below);
- proof of cure (positive PCR or antigen test at least 11 days old and less than 6 months old);
- negative antigenic test result less than 48 hours old or PCR test less than 72 hours old.
All travellers must complete a Passenger Locator Form digitali (dPLF) on the online portal. The paper form (downloadable in PDF) should only be used in case of technical difficulties.
The measures applicable depend on the country of origin within 14 days before travelling to Italy (and not on the nationality of the traveller). An interactive questionnaire allows to know the measures according to each situation (Italian/English).
Additional registration measure for Puglia: register before travelling
 ENTREE SUR LE TERRITOIRE ITALIEN valable  jusqu'au 30 avril 2022
Les voyageurs de plus de 6 ans qui entrent en Italie depuis la France doivent présenter un pass sanitaire valide. Celui-ci correspond :
_ soit à un schéma vaccinal complet reconnu par l'EMA (on entend par schéma complet 2 doses pour un vaccin à deux doses et 1 dose pour un vaccin à dose unique. Pour circuler en Europe, ce schéma vaccinal est valable pendant 9 mois après la dernière dose. En revanche, cette durée est de 6 mois pour accéder à la plupart des services ou activités en Italie (voir plus bas) ;
_ soit une preuve de guérison (test PCR ou antigénique positif datant d'au moins 11 jours et de moins de 6 mois) ;
_ soit le résultat négatif d'un test antigénique de moins de 48 heures ou PCR de moins de 72 heures.
Tous les voyageurs doivent remplir un formulaire de traçabilité (Passenger Locator Form digitali - dPLF) sur le portail en ligne. Le formulaire papier (téléchargeable en PDF) ne devra être utilisé qu'en cas de difficulté technique.
Les mesures applicables dépendent du pays de provenance dans les 14 jours qui précèdent le voyage en Italie (et non de la nationalité du voyageur). Un questionnaire interactif permet de connaître les mesures en fonction de chaque situation (italien/anglais).
---

Q : When does the                   Resort open ?
D :  Quando il Resort                           sarà aperto ?
Q : Quand le Resort sera-t-il                 ouvert ?
We will open on May, 1st  2022.
Apriremo il 1° maggio 2022.
Dès le 1er Mai 2022, le Resort vous accueillera dans les meilleures conditions .
---

Q :    Can I still book my           holiday now and what does happen if  I can't travel ?
D : Posso ancora prenotare le mie vacanze adesso?
Q : Puis-je réserver mes vacances maintenant et que se passera -t-il  si je ne peux pas voyager ?
 Yes, you can book your future holiday now on our website.
 If  the deposit  paid and the holiday cannot be consumed on the dates you have booked, the deposit will automatically be transformed into a credit note "VOUCHER" valid at Resort Grottamiranda for a period of 18 months. 
We appreciate the fact that you have confidence in us to book in 2022 and we want to be worthy of this trust. We will  be very flexible to find solutions :  to rebook to a later date or choose a voucher. You won't lost your money.
Sì, puoi prenotare la tua futura vacanza sul nostro sito web.
Se la caparra versata e la vacanza non può essere consumata nelle date che hai prenotato, la caparra si trasformerà automaticamente in un voucher valido al Resort Grottamiranda per un periodo di 18 mesi. 
  Apprezziamo il fatto che lei si fidi di noi per prenotare nel 2022 e vogliamo essere degni di questa fiducia. Saremo il più flessibile possibile per trovare soluzioni e riaffittare in seguito o utilizzare il vostro VOUCHER piu tardi.
Vous pouvez réserver vos vacances dès à présent
- si la situation sanitaire vous obligeait à décaler ou annuler vos vacances, l'acompte payé serait transformé en VOUCHER, valable 18 mois et remboursable passé ce délai
 Nous apprécions le fait que vous nous fassiez confiance pour réserver en 2022 et nous voulons être dignes de cette confiance. Nous serons le plus flexible possible pour trouver des solutions et relouer plus tard OU utiliser votre VOUCHER, comme vous le souhaitez. Vous ne perdez pas d'argent.

Q :   What will be done to protect  my health ?
D : Cosa verrà fatto per proteggere la mia salute?
Q : Que sera-t-il fait pour protéger ma santé ?
 The  national Italian rules  and   the ones from our PUGLIA Region are very clear.
We decided:
- to provide protective masks
- hydro-alcoholic gel will be made available in the common areas.
- each apartment will be equipped with disinfectant soap.
Rooms
New reinforced cleaning protocols of our rooms with great emphasis on knobs, switches, e.t.c.; Each room will be equipped with hand sanitizers. 
Bar
The Bar tables will be at a certain distance for the safety of all guests.. We will provide an evening program, while kindly asking you to keep the distance. 
Pool Area and Showers
All exterior surfaces will be neatly and daily disinfected 
Every sunbed and lounge chair will be disinfected after each use.
Sunbeds and umbrellas at the pool will be at a certain distance for the safety of all guests.
At the end of the day, Pool areas will be completely disinfected once again.
Les règles nationales italiennes et celles de notre région de PUGLIA sont très claires.
Nous avons décidé :
- de fournir des masques de protection
- les espaces communs : bar, toilettes, douches seront désinfectés tous les jours et après chaque utilisation.
- Un gel hydro-alcoolique sera mis à disposition dans les espaces communs.
- chaque appartement sera équipé d'un savon désinfectant.
APPARTEMENTS
Nouveaux protocoles de nettoyage renforcés de nos chambres avec une grande importance accordée aux boutons, interrupteurs, etc.
Chaque chambre sera équipée de désinfectants pour les mains. 
BAR
Les tables du bar seront à une certaine distance pour la sécurité de tous les invités. 
Nous fournirons un programme des soirées, tout en vous demandant de garder la distance.
ESPACES PISCINE ET DOUCHES
Toutes les surfaces extérieures seront désinfectées soigneusement et quotidiennement 
Chaque  transat  et chaise longue sera désinfecté après chaque utilisation.
Les chaises longues et les parasols de la piscine seront à une certaine distance pour la sécurité de tous les clients. 
À la fin de la journée, les zones de la piscine seront à nouveau entièrement désinfectées.
---