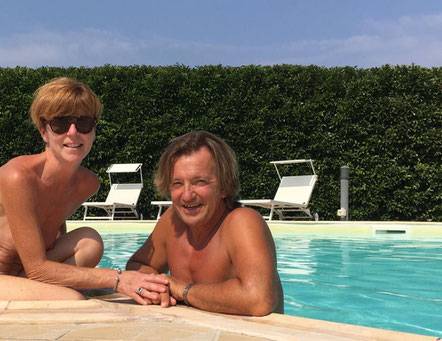 First of all, Pierre and I want  to thank all of you who have called, emailed or messaged us asking about our welfare.
All our staff and suppliers in GROTTAMIRANDA are safe.
We hope you are  doing well , you and all your family.
The Resort Naturista Grottamiranda is open from June 7th 2020  ! 
with all security and protections.
our commitment
We will use on a regular basis this PAGE to keep you informed about the situation in Puglia and to guarantee a safe holiday
For the moment, you may have many questions, let's try to answer them and don't hesitate to call us if necessary: 00 33 6 67 27 18 65
Il nostro impegno
Per questo motivo utilizzeremo regolarmente questa pagina per tenerti informato sulla situazione in Puglia e per garantirti una vacanza sicura.
Per il momento, potreste avere molte domande e cerchiamo di rispondere. Non esitate a chiamarci se necessario: 00 33 6 67 27 18 65 
---
your questions

Q :    When does the                   Resort open ?
D :       Quando il Resort                           sarà aperto ?
GOOD NEWS ! 
The Italian government decided, during the night from Friday May 15th to Saturday, May 16th, to reopen its borders to EU tourists and cancel the mandatory quarantine for foreign visitors.
1) From May, 18th : Reopening of all economic activities   : restaurants and others...             
2) After June, 3rd : free traveling in all regions in all the country 
This means that we are happy to open the Resort  on June , the 7th.
Obviously, we will respect and ask all our guests to respect the government and Puglia rules about health and sanitary care.
BUONE NOTIZIE ! 
Il governo italiano ha deciso, nella notte tra venerdì 15 e sabato 16 maggio, di riaprire le frontiere ai turisti comunitari e di annullare la quarantena obbligatoria per i visitatori stranieri.
1) Dal 18 maggio : Riapertura di tutte le attività economiche
2) Dopo il 3 giugno: viaggi possibili in tutte le regioni di tutto il paese 
  significa che potremo aprire il Resort dopo il 7 giugno.
Ci impegnamo e chiederemo a tutti i nostri ospiti di impegnarsi a rispettare le regole decise dal governo e dalla Puglia in materia di salute e di igiene.

Q :    Can I still book my           holiday now?
D : Posso ancora prenotare le mie vacanze adesso?
 Yes, you can book your future holiday now on our website.
- If  the deposit  paid and the holiday cannot be consumed on the dates you have booked, the deposit will automatically be transformed into a credit note "VOUCHER" valid at Resort Grottamiranda for a period of 12 months.
Sì, puoi prenotare la tua futura vacanza sul nostro sito web.
Se la caparra versata e la vacanza non può essere consumata nelle date che hai prenotato, la caparra si trasformerà automaticamente in un voucher valido al Resort Grottamiranda per un periodo di 12 mesi. 
Q :   What about my holiday already booked ?
D : E la mia vacanza già              prenotata?
1) If you already have a confirmed reservation until 31 May 2020, you can postpone it until 31 October 2020
 2) and we are now authorized by the Italian government to postpone it also to the year 2021.; You will receive a VOUCHER valid for a period of 12 months.
 1) Se hai già una prenotazione confermata fino al 31 maggio 2020, puoi rinviarla fino al 31 ottobre 2020
2) e siamo ora autorizzati dal governo italiano a rinviarla anche all'anno 2021. Riceverai un voucher valido per un periodo di 12 mesi (legge del 24 aprile).

Q :   What will be done to protect  my health ?
D : Cosa verrà fatto per proteggere la mia salute?
---
 IN THE MEANTIME, 
Please stay positive and keep on dreaming !
PUGLIA is now ready to welcome you safely.
Kind naturist regards
Martine and Pierre
NEL FRATTEMPO, 
Per favore, state al sicuro e continuate a sognare!
La Puglia è prontà per accogliervi ! 
Cordiali saluti naturisti
Martine e Pierre