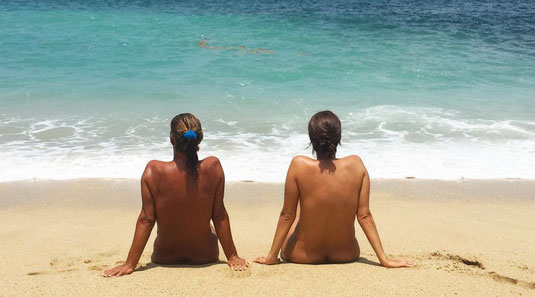 A first naturist experience tempts you!
You've heard about naturism and you want to try but you fell too shy. How do you become a naturist? Is it just a matter of taking off your clothes?  It's not as simple as that.
So let us guide you and share an experience...
how to feel comfortable with your body
Feeling good about yourself can be much more difficult when you have no clothes on.
You simply can't hide your small or large imperfections anymore. 
1) So think about preparing this first naturist experience : why not being nude at home?
If you're worried about your first naturist experience (on a beach or in a naturist centre), start by stripping off your clothes at home, in your bathroom, but also in the rest of your home. Walk around, watch TV, do the housework, cook... naked! You will quickly get used to the idea of living "normally", while being naked. Once you have grasped these sensations, the idea of being naked in public will no longer seem insurmountable.
2) Second step, public nudity : think of small places
You already feel comfortable being naked inside your house or outside where no one else is around. Now it's time for the biggest step of all: being naked in public! 
Think of the SAUNA or SPA : not everyone is a naturist, but they come to enjoy a feeling of well-being and relaxation in a small space. Very communicative. Little by little,  you learn to enjoy the FREEDOM of your body
Then think of  small naturist areas : RESORT, HOTEL, nude in public will be facilitated.
3) Finally, think that we are all "normal people".
Most of the people you will meet will not pass judgement and will not look for perfection in their bodies. RESPECT is the first value of naturists.  
No one is looking at you beacause we are all the same, normal persons.
How to prepare this first naturist experience
4. Pack your suitcase as you would for a usual holiday
One cannot help but ask this question: how do you pack your suitcase for a naturist holiday?
If you want to practice one of the sports activities offered by your naturist resort, you will certainly need clothes to limit unpleasant rubbing, for example.
Also think about the weather: in case of rain or wind. Finally, in the evening, the areas are tolerant. If the temperature drops, you can of course cover up.  Situational awareness and tolerance are the key words for successful experiences.
5. To go with or without children ?
You can't help thinking: "What will they think of me when they see me naked? "Will I lose my authority when I'm naked? "Is it normal for a child to be in a naturist environment? ".
If they are young, immersing them in these worlds will allow them to evolve in a healthy universe where nudity and the particularities of the human body are not taboo, nor exclusively associated with sexuality.
If they are older (around adolescence), talk to them before booking your stay. Inform them, don't hesitate to tackle delicate subjects, but above all, explain what appeals to you about naturism... In a simple and accessible way. This will be the best way to stay in your role as a parent while getting your message across.
Remember: you can also keep this to yourself and your partner. Sharing your first naturist experience can be a great way to discover and exchange together.
6. Is your partner also attracted by this first naturist experience ?
Sometimes in a couple, one spouse is a naturist and the other is not. This raises the question of how to live your naturism. 
Talk about it together. Why are you not comfortable, why is she not comfortable? There are many reasons, but it often starts with questions about nudity and its meaning.
Converting your partner to naturism is not easy, but not impossible either. It is probably the most sensible solution. Exchanging, discovering slowly together, discussing one's own impressions is certainly the necessary recipe for a successful and well lived first experience.
7. Think about your personal comfort :
Make sure you have all the comfort you need for a good first naturist experience: full body hair removal or not? Do as you feel like, don't force yourself to do anything: tolerance is the key.
Moreover, periods of indisposition of women are not an obstacle to a naturist experience. The RESORTS tolerate the wearing of clothing in these cases. You can also use sanitary tampons to continue your experience. But choose a period and comfort that makes you feel comfortable.
Beware of sunburn: naturism is not the solution for a perfect, all-over tan.
Remember to protect the most fragile areas: buttocks, breasts, pubic area. If you've been planning this getaway (or naturist holiday) for a long time, take a vitamin treatment to help your skin cope with the upcoming sun exposure.
8. Respect the naturist way of life : hygiene, respect for nature, sport
Respect the regulations and/or the charter defined by your naturist RESORT.
If some rules are obvious: respect for the environment and the cleanliness of the area, others are less obvious.  Make sure that your eyes do not remain blocked on a body imperfection or any other difference that another naturist could display
Hygiene and comfort go hand in hand in a naturist place. When you go to lie down on the deckchairs in the swimming pool or when you want to do some sport, always take your towel with you.  If you are exploring the surroundings of your campsite by bike: don't leave without your sports shorts.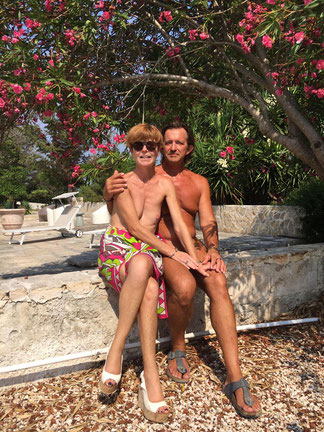 In any case, choose an open and human naturist place.
Don't hesitate to talk to the staff.
Express your fears and hesitations. Ask all your questions.
The Grottamiranda Naturist Resort is always ready to listen.
 WELFARE, RESPECT, CONVIVIALITY are indeed the values of naturism
Martine & Pierre