If you're looking for an escape from everyday life, and want a break with complete freedom to be yourself, you might be interesting in naturist friendly beaches. 
Far from very well-known naturist places like Spain, Croatia or Canarian , Resort Naturista Grottamiranda allows you to discover other naturist places in Europe in different countries you wouldn't have thought to go to.
You'll be in good company on any one of these best naturist places/beaches in Europe.
NATURIST PLACES IN EUROPE
1) Brighton Naturist Beach, UK
This naturist beach in Brighton opened in April 1980, but it wasn't just the first one in the city, but the first nudist beach in the UK. It can be found at the eastern end of Brighton Beach – walk east from the pier towards the marina towards the large banks of rocks, built to protect guests from prying eyes.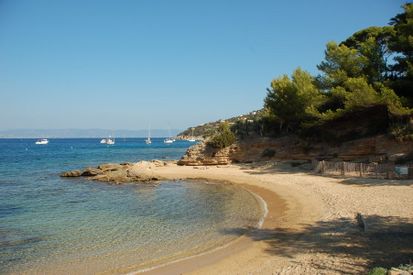 2) Plage des Grottes, Île du Levant, France
Nudity is obligatory at this small-but-perfectly formed nudist beach for naturists in sunny southern France. The island on which it's located, Ile du Levant, has some of Europe's best naturist resorts, and sun-seekers who like to travel a little lighter have been flocking here for years.
3) Porto Ferro Beach, Sardinia, Italy
This small, beautiful stretch of sand is one of the best beaches in Sardinia, and the northern end is the section to head for if you fancy stripping off. The beach is a mixture of sand and large rocks, but it's also well sheltered – both from winds and prying eyes – and it's long too, so there's plenty of space.
4) ILHA DESERTA – OLHAO, PORTUGAL
Ilha Deserta offers a more tranquil experience than some of the other beaches on our list. Which is perfect for the peaceful travellers or the writers, or those who just prefer a little more privacy when embarking on a nudist trip. This is because the area is uninhabited.
There might be not much around but that doesn't mean you can't enjoy yourself. You can even rent out a Jamanta party boat that can carry up to 200 people!
5) Bellevue Beach, Klampenborg, Denmark
One of the best naturist places in europe can also be found in the North.
Nude bathing is welcomed at this popular Danish beach, which is easily accessible from Copenhagen and has excellent facilities, including showers and a lifeguard service. It's one of the area's livelier stretches of sand, so if you're going nude for the first time
The northern end is where the majority of nude sunbathers congregate, although topless bathing is common in all areas. 
 6) Discovering other naturist places in Europe is also taking time to explore natural sites far from mass tourism : Torre GUACETO, Apulia Italy
The Region of Puglia offers stunning natural landscapes as well as notably beautiful beaches,
Although naturism is not yet developed, we are eager to make you discover the most beautiful sites
The WWF natural Reserve of Torre Guaceto provides a beautiful marine reserve and nice woods.  
The coastline over 3,5 kilometres, provides to the visitors fine, white sand beaches, coves and rocks overlooking the sea.
The Torre Guaceto naturist beach is 7km far from the naturist RESORT GROTTAMIRANDA